A festival is not a festival without the fashion element, and SPOT 2016 is no exception to this rule. First introduced in 1994, SPOT Festival is all about music, creativity, and entertainment. The weekend-long event provides fresh Danish and Scandinavian artists with a platform to showcase their work, so that professionals from the music industry are able to 'SPOT' young, emerging artists.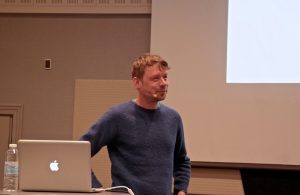 Naturally, where there is music, there is style and fashion. On day two of SPOT 2016, Danish-born designer Peter Jensen gave a seminar about his work in the fashion industry.
After graduating with an MA in Menswear from London's Central Saint Martins, Jensen's work was recognised by an Italian brand, which took him under its wing. Since then, Jensen has gone on to establish his own brand and has created many collections for both men and women, showcasing them at the biggest fashion weeks in Europe, including London and Paris.
Growing up as a boy with a passion for fashion, he recalls it was "like pretending you're a girl when you're really a boy". However, he admits that he had no intentions of launching his own brand or company, and things turned out the way they did by chance: "After years of studying, I was sick to death of being poor".
But of course, stepping into the fashion industry did not increase his fortune overnight; rather, what followed was a lot of work, commitment, and dedication: "Collections are hard work", he added.
During the seminar, Jensen took the audience on a trip down memory lane, giving us an overview of the past 15 years of his brand. He had no qualms in sharing that, in the beginning, he did many shoots with photographers in dark and dingy bars in the backstreets of London, as he didn't have money for fancy venues.
Some of his collections have been inspired by photographers and artists, others by family members, such as his Autumn/Winter 09-10 collection, which was inspired by his Aunt Jytte from Greenland. This particular collection received negative feedback, he admitted, but he had fun creating it.
A piece of advice Jensen had for all aspiring designers was this: "Go out and learn from others' mistakes!"
See the Peter Jensen Autumn/Winter 2016 collection here.
---
Brought to you by Jutland Station.